​Report:
Dry Bones Revival was an Inspirational Event in Gettysburg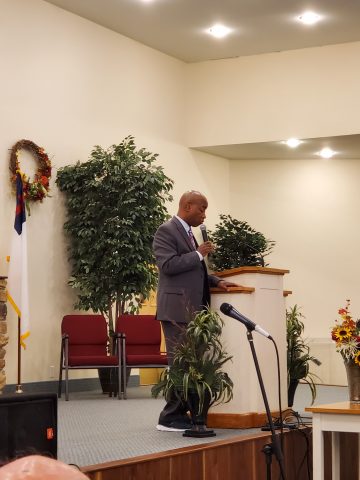 It was a blessed day on October 1, 2022, in spite of the rain, for the  Dry Bones Revival. Members were hoping, just as in the Ezekiel's vision of the valley of dry bones (Ezekiel 37:1–14), God would breathe new life into them and bless their lives, their community and their church with a renewed dose of the Holy Spirit. The lasting impression of those who attended was that a very special blessing was, indeed, received. Some, if not all, are feeling a bit rejuvenated and revived!
Like the nation of Israel, the Gettysburg congregation had been feeling a little "dead". The school closing was a big blow to the faithful, disappointed, supporters of the school. Additionally, attendance was beginning to fall off and members were, for the most part, feeling a bit blah after the pandemic. Others had personal losses during and after the pandemic that included the losses of loved ones, losses of jobs, loss of health, among other things. There was a pervasive sense that everyone was dealing with something or another, although no one was really talking about it! Fortunately, Brittany Beaver-Noss picked up on it and put together the Revival with some help from members, friends, and family. It was Isaiah's vision that inspired the name, 'Dry Bones Revival'. The title could not have been more perfect! Continue Reading...
​
---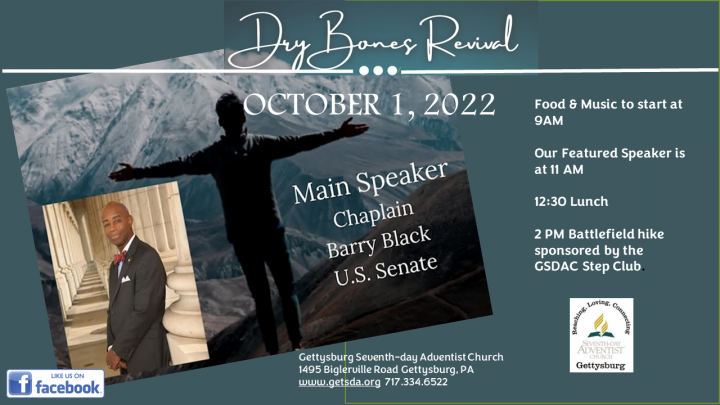 Dear Neighbors and Friends,
Greetings!  I just wanted to take a moment and ask you a question. How has the last few years been for you?  More importantly, how are you?  If your last few years have been anything like mine than they have been some of the hardest years to cope with. Some of us have had the loss of friends and family members, others are going through health or financial issues, others of us may be dealing with worry and burnout. Some may even be in survival mode. 
So, what do we do? Is there a way to get in touch with the community around you and find that sense of fellowship and family again in this very different post-Covid world? I believe there is!  I know that there are people around us that feel the exact same way we do and are looking for others to share in this journey.
I am inviting you to meet some of those people, October 1, 2022. On that day, US Senate Chaplain, Barry Black is coming to Gettysburg to speak a phenomenal message. Please note that he is non-partisan and apolitical, serving every administration since his appointment in 2003. He will be at the Gettysburg Seventh-day Adventist Church talking about how to go from feeling burnt out and exhausted to being rejuvenated and finding connections with God and those around us in difficult times.
This free event is open to anyone. Please consider joining us Oct 1. We would love to see you there that day!
Sincerely,
Brittany Noss,
Personal Ministries Director for the Gettysburg SDA
---
Get to know Barry Black!
---
---
PRESS RELEASE           
 
US Senate Chaplain, Barry Black, to be Guest Speaker at Dry Bones Revival at Gettysburg SDA Church  
Barry Black, United States Senate Chaplain, will be the keynote speaker at Gettysburg's upcoming 'Dry Bones Revival' on October 1st. The day begins at 9 AM with a meet and greet with light refreshments. 9:30 -11 AM – There will be prayer, praise, inspiring music, children's story, testimonies, and sermonette, followed by Chaplain Barry Black at 11AM. Afterwards, a complementary lunch will be served, followed by a Gettysburg Battlefield Hike, sponsored by the Gettysburg SDAC Step Club at 2 o'clock.  
Rear Admiral Upper Barry C. Black (Ret.) was elected the 62nd Chaplain of the Senate on July 7, 2003. Prior to Capitol Hill, Chaplain Black served in the U.S. Navy for over twenty-seven years, during which time he was highly decorated. He punctuated his distinguished career as the Chief of Navy Chaplains before leaving to be the Senate chaplain. 
Commissioned as a Navy Chaplain in 1976, Chaplain Black is a native of Baltimore, Maryland and an alumnus of Oakwood College, Andrews University, North Carolina Central University, Palmer Theological Seminary, Salve Regina University, and Alliant International University. In addition to earning Master of Arts degrees in Divinity, Counseling, and Management, he has received a Doctorate degree in Ministry and a Doctor of Philosophy degree in Psychology. Chaplain Black has been selected for many outstanding achievements. Of particular note, he was chosen from 127 nominees for the 1995 NAACP Renowned Service Award for his contribution to equal opportunity and civil rights. He received the 2002 Benjamin Elijah Mays Distinguished Leadership Award from The Morehouse School of Religion. In 2004, the Old Dominion University chapter of the NAACP conferred on him the Image Award, "Reaffirming the Dream – Realizing the Vision" for military excellence. In May 2019, Chaplain Black was awarded Becket's highest honor, The Canterbury Medal, for his worthy defense of religious liberty for people of all faiths.  
He has authored six books beginning with his autobiography, From the Hood to the Hill (2006), The Blessing of Adversity (2011), Nothing to Fear (2017), Make Your Voice Heard in Heaven (2018), Bible Wisdom for Better Living (2019), and A Prayer for Our Country: Words to Unite and Inspire Hope (2022).Chaplain Barry C. Black is married to the former Brenda Pearsall of St. Petersburg, Florida. They have three sons: Barry II, Brendan, and Bradford. 
Brittany Noss, organizer of the event, "intends the Revival to be a day to heal and rejuvenate body and spirit after the losses and rough times associated with the pandemic, over the past two+ years. It is her hope that we can bring together the community and provide inspiration to face the future with Christ." There is absolutely no obligation or charge for the event. Only an optional love offering will be accepted. 
To follow updates to this event, please go to www.facebook.com/gettysburgseventhdayadventistchurch or www.getsda.org . The event will be streamed live at their LiveStream Channel at https://livestream.com/gburgsda. The Adventists invite the community for a day of revival, rejuvenation, and re-connection with Jesus Christ. There is no charge for this event. Gettysburg SDA is located at 1495 Biglerville Road in Gettysburg, PA.  
​