​
​
There's a very cute story how and why Noss chose US Senate Chaplain Barry Black to be the keynote speaker. Surprisingly, when Brittany was just 3 years old, in 1993, (ten years before he became the Senate chaplain) she remembered meeting Reverend Barry Black in her family's SDA church in Westminster, MD. Even at such a young age she became invigorated and excited by his sermon. She astonished the members and Rev. Black when she stood on the pew and boisterously cheered him on, much to the delight of all.
Apparently, Brittany never forgot him and somehow knew that he was the one she wanted to be the main speaker for the Revival. Fortunately, he agreed. He made the day extra special with his inspirational sermon, making Biblical references to Daniel, Ezekiel, the Gospels and Revelation.  According to Black, the reviving of the dry bones signified God's plan for Israel's future restoration. Putting "breath" by God's Spirit into the bones showed that God would not only restore them physically but also spiritually. Ezekiel, most importantly, showed that Israel's new life depended on God's power and not the circumstances of the people.
During his sermon, Black emotionally proclaimed, "We are living in the toenails of the image in​
​ Daniel's vision in Chapter 2. We are weak and divided, soon to pass away." He went on to give encouragement, saying, "Although we may feel abandoned, we must trust the God of the impossible." It is his belief that 98% of all Bible prophesy has been fulfilled and time is short before the second coming and the biblical millennium. He encouraged the congregation to make good use of this time to seek and minister to lost family members, friends and acquaintances not just with our words but with our actions and prayers.
Black's sermon had references to his childhood, stories of his Godly mom, his experiences with the Senate members, family and workers, all peppered with quotes of encouragement from the Bible. He even sang a wonderful rendition of the Old Rugged Cross in his deep baritone. He challenged the attendees to trust the God of the impossible, to take up their crosses, fast, and stay in the Word, during the times ahead. He ended with an appeal to everyone to make a commitment to ask God to deal with our besetting sins and to trust God to breath new life into us. It is no surprise all left the service feeling a bit stronger than when they came in. ​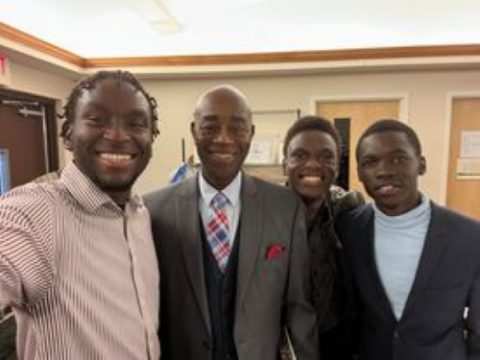 ​
Black was not the only speaker and singer on the agenda for the day. Brittany's agenda included an array of musicians, including Tara Berlin, Carmen White, Lori Schaffer, Cassandra McCullough, Lindsey Baumgardner, and the youth singers with Louella Santos. Inspirational speakers included Brittany Beaver-Noss, Godfrey Chundu and Shelley O'Rork. Christopher Harman gave the children's story. While the large church wasn't filled to its capacity, it was close. There were over three times the usual attendees making it a very full church, that Sabbath. The service was followed by a lovely, planned meal for all the attendees, arranged by Dottie Poulson. During lunch, Chaplain Black signed copies of his two newest books, one a children's book, A Prayer for Our Country - Words to Unite and Inspire Hope, and an adult devotional, The Blessing of Adversity: Finding Your God-given Purpose in Life's Troubles. An afternoon hike with the GSDAC Step Walkers had to be cancelled due to inclement weather. That hike is rescheduled for 3PM, Sabbath 10/15/22.